Thumbs up from tourists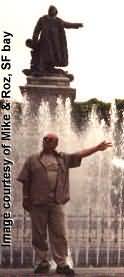 We returned about 5 days ago and I had to read a month's mail, pay my bills, remove the weeds (herb sauvage) from my garden and now I have time to send you an e-mail. I want to thank you for a very enjoyable tour of Cahors. It was so nice that you took the time to show us the city, the fantastic view from Mont St. Cyr, the spring with the crazy divers and the opportunity to see the beautiful Cathedrale (...).
I have a few photographs which I will send to you. One is of you and me in front of your car and one is of you and me in front of MY car. I was impressed at how complete your paperwork was for importing the car, very professional. I think that it will be very easy to register the car in California. We have to discuss a few things to be sure that we are both happy with the transaction. (...).
If we can finalize a price, an engine, and a date, I will send my "deposit".
Thanks again and Roz says "Hi"


---
I have been in Kansas for about 9 days (other than 2 days in Arkansas for caving). Nice to be home. (...) thank you again for a great meal and the great company (with your translation).
I also enjoyed Sunday in Toulouse. I went inside St. Serrain---what a majestic structure!!! (...)
After discussion with my wife and a chance to mull over the purchase I am interested in a purchase if we can work out the details and a good price (...).
I am wanting a nice car that will last many years. What is the next step? I have been looking at other 2CV web sites (...). Reinforced some of the things you have said.

---