Jerry, Olathe, KS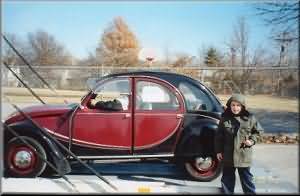 The 2CV has arrived and looks and runs great!
John delivered yesterday afternoon for the $ as advertised. I took a few pictures of the 2CV as it was coming out of the trailer. I should be able to send the photos by email tomorrow. John is very professional and has excellent equipment. He would a good person for you to continue to work with.
I didn't have much time to look over and play with the car yesterday and the weather is turning bad today (snowing).
I haven't yet received the import information in the mail from the broker but as soon as I do, I will get my Kansas Vehicle license plate.
>>>>>
I wanted to give you an update now that I have had my 2CV for about 2 months. It is everything I envisioned and more. The car is nearly perfect in all respects and a blast to drive. One fear I had was that I would be so slow on the road that I would be a hazard. Not so-I will admit to spending the majority of my time in the right and center lanes of the highway, but I am buzzing along at the speedlimit with no problem. Just can't keep up with those going 15 mph over the 65 mph speedlimit. One issue is I am the most recognized car in town so I cannot hide. Everyone knows where I am at all times.
I got through insuring and licensing fairly painlessly. The insurance company finally decided to insure as an antique so insurance is about $110/year and personal property tax is a minuscule $12/year. Can't beat those rates! I now have a Kansas license plate in addition to the French ones.
I am using the car mostly to go to and from work on the nicer days and to run errands about town. I have a carport so it is protected most of the time. I expect to get many years of fun, inexpensive transportation from my 2CV. I have now driven it about 1200 km and it shows no oil consumption and the oil looks clean as new.
You did a great job on the 2CV. I look over the car and see nice details and additions. New bolts, hoses, rubber parts, etc. Keep up the good work.
Jerry, Olathe, KS
---