Refurbishing Steps
Episode III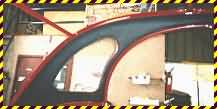 Black felt
Black felt is glued inside the body, instead of the original grey felt. Black is better suited to the Burgundy / Black Charleston body. It was grey on the original as all 2CV have grey felt. The original grey felt tends to melt into an horrible powder along years so replacing it with a black one, stronger and better suited, is the best option.
Floor mats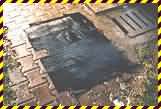 Floor mats are washed and cleaned.

The new upholstery
The new upholstery is made of grey quilted fabric, strong foam and polyester sitting fabric pieces. Additional rubber springs enforce the seats (which original design is too soft and uncomfortable for long trips).
Front wheels settings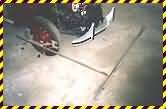 All settings have changed as everything was unmounted for checking, cleaning and greasing. A special tool is needed to set each wheel with his correct orientation.

Fabric top
The original rivets are putted directly to the fabric, allowing ingress of water between the rivet and the fabric. With time, the fabric is damaged exactly on the riveting area and the fabric rip up. All rivets was removed and replaced with new ones plus rubber seals between the rivet and the fabric.
Locks

All locks was dismantled then cleaned and greased before reassembling. Here are the front doors locks. The same was done for rear doors locks and for the trunk door lock.
Quite finished
With some adjustment on the fabric top, all the doors, the seats, the hubcaps and the F sticker on the trunk door, it will be finished, ready for running in.