Refurbishing Steps
Episode I


The donor 2CV.
Everything starts from a common second hand modern 2CV6, for example here a blue 2CV6 Spécial in very average condition despite it looks in rather good condition. There are damages to bumpers, driver door, headlight on passenger side and front fender on driver side. The engine is close to death : one cylinder is eating as much oil as gasoline. The seats were "retrimmed" with... ropes !! The shining on the body comes from rain. The condition of paint is in fact very poor : it let blue powder on the fingers when you put the hand on it.
Beginning of strip down.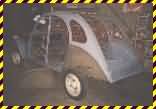 All windows, rubbers, chromes etc... are removed, showing that, as expected, everything is quite clean and rust free.

Removing the engine.
Bumper, front fenders and lights are removed to give access to the engine. The engine is separated from the gearbox. The parts which will be re-used on the new engine are dismantled.
Separating main body and chassis.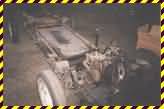 The main body is removed from the chassis and putted on old tires. Dismantling will continue to allow sanding.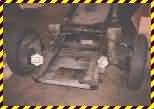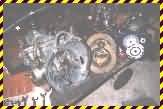 Removing the gearbox.
The gearbox his removed from the chassis and the area is cleaned. There is often some surface rust on the chassis on the cross member. This comes from leaks when filling the bottle of water for the windscreen which is exactly above this place, bolted on the body. The old discs and the brake shoes are removed. The gearbox is cleaned, new discs are bolted and the brakes shoes are refitted to the gearbox.
The new engine.

The new engine is out from the box, 0 km. It is assembled with a new clutch mecanism.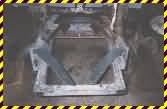 Sanding.
Main body and chassis are sanded prior to rustproofing. The chassis will be enforced with welded plates from Citroën instructions. Notice that the bottom of the front of the body was... not painted with blue (only the rough original brown coat) and so was starting to rust (usual problem).
Rustproofing.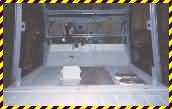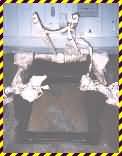 The whole chassis is rustproofed (you can see here only the front because the body is back on the chassis to save space on the garage). The metal plate which was under the engine, welded to the chassis has been cutted out. It will be replaced with a stronger one, bolted (removable) to ease access from behind. The interior of the main body is rustproofed and the battery support too. Notice the new rubber seals which will be used when the main body will be bolted back onto the chassis.