2CV books
Nuts and bolts


In association with amazon.co.uk


Compilation of several articles serialised in the monthly UK magazine CAR Mechanics by Nigel Thorley : Dismantling and assessment of work required, total removal of body and engine, suspension fitted to new chassis, checking and servicing engine, reassembly, bodywork repairs, refurbishing the interior, vinylcoating the roof, fitting electronic ignition, final assessment.
If you are planning to buy a restoration project, buy this book first : it will help you save time, money and avoid frustration. It covers a detailed insight into all aspects of ownership and maintenance including the initial purchase of a very sad 2CV (bent chassis), the work involved in re-chassising it, engine removal, servicing, remedial bodywork, painting, not forgetting generalised maintenance, modifications and even keeping a 2CV clean !
It is also a must have for those who are feared with getting such a marvelous car as it will show you it is absolutely not a nightmare of repairs thanks to its clever design and reliability.

---
CitroŽn 2CV, AMI and DYANE
1967 to 1990, 425cc, 435cc and 602cc
Manual based on a stripdown and rebuild
Is it hard to get the car serviced ? If you are planning to buy a 2CV, you are obviously concerned with that question. This book by I.M Coomber, from Haynes Publishing, the UK leader on car workshop manual with references for thousands of different makes and models, will help you allay any skepticism you might have. With this book, any mechanic will service your 2CV the right way and, if you are mechanically inclined, you will be able to service it yourself thanks to this widely and clearly illustrated manual.

---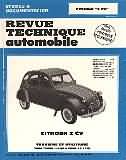 Revue Technique
CitroŽn 2CV, tourisme et utilitaire
Tous types jusqu'ŗ fťvrier 1970

---
Revue Technique
CitroŽn 2CV4 et 2CV6, 250 et 400
Tous types depuis fťvrier 1970 jusqu'&agrave fin de fabrication

---
Revue pratique
de technique automobile
CitroŽn 2CV4 et 2CV6
Jusqu'aux modŤles 1987 inclus
This is the manual sold by CitroŽn dealers.
---

Votre voiture CitroŽn 2CV
4-6-Spťcial-Club-Charleston

---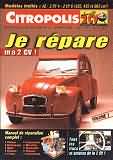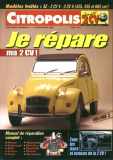 Je rťpare ma 2CV ! vol. 1 (400 pages) & vol. 2 (312 pages)
A reprint from the "Manuel de rťparation 2CV" distributed by CitroŽn to its mechanic.

---