Thumbs up from not-clients
Hello,
I first found your site about a year and a half ago, when I was shopping for a 2CV. I found a lot of very useful information, especially about rust problems. My in-laws live in Orleans, France, so they were helping me shop by sending me 2CV advertisements.
Although I continued to look for 2CVs in France, I was very lucky to find a 1979 2CV6 Bleu Myosotis in Montreal Canada, only a two hour drive away. When I examined it, I remembered all your information about rust. This car was not running properly, but it had almost no rust, so I bought it. Since then, I have worked to get it running the way I want, and now I am part of a very small band of 2CV owners here in Ottawa (there are five of us, in a city of a million people).
I still visit your site to see what cars you are offering. I really enjoy the "walk around the car" photo section.
Keep up the good work. I wish you well in your business.

Bob

---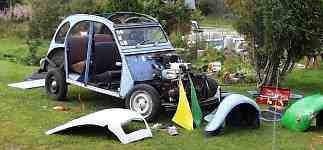 Bonjour,
j'ai trouvé votre page en ''surfant'' sur GOOGLE dans le but de trouver des dealers ou contacts Canadien ou encore mieux québéquois. J'habite au Canada, Québec, Saguenay, Ville de la Baie .
J'ai acheté une 2cv ici au mois d'octobre 2001. J'adore cette voiture depuis 25 ans... Depuis le jour ou je l'ai vue dans une vieille émission francaise. C'est la que j'ai vraiment compris que cette voiture étais très différente et attachante et qu'un jour j'en aurai une . Elle me rappelle la France , et ses folles années. C'est pour moi un lien tangible avec mes ancêtres européens. En la conduisant Je penses à Louis De Funés , Aznavour, la tour Eiffel et un bon petit vin rouge Francais.
C'est of beat, différent, original, c'est une voiture mythique. Je suis moi même quelqu'un qui aime la différence, j'aime quand les choses ou les gens se démarquent !! La 2cv me ressemble, sobre , efficace, original, simple, ingénieuse, avangardiste, mais surtout différente.
Je l'ai acheté ''running'', dans un état moyen, je dirais 6 sur 10 , j'ai mis 75 heures de rénovation juste pour le moteur et je prévois passer tout l'hiver pour le reste.
C'est mon rêve qui se réalise. Aujourd'hui, à 42 ans, je penses être assez mature pour posséder une telle voiture dans le but de la restaurer.

Bruno

---
I first wanted to congratulate you on a very nice web site. It is neatly designed, easy to navigate and engaging. I also wanted to comment that the amount of information you provide is outstanding. You apparent honesty on the cars is apparent. I have been dealing in classic cars since I was 14, and the type of people this industry attracts has always surprised me. It is seldom that I encounter a car salesman who is honest and forthcoming about a car. The way you described every single little problem with the cars, to me anyway, makes them more desirable than cars that are advertised as having "no problems." Probably every car has problems, and to not disclose those problems is very dishonest. I salute your candor.
In the end, your honesty will be the root of your success.
Since I discovered your site, I have shared it with many others.

John 1st, New-York, NJ

---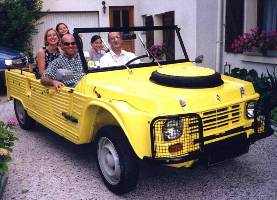 Merci pour ce renseignement que je cherche depuis des années auprès des clubs en France et aussi en Angleterre!
J'ai bien aimé ton site et aussi l'idée de proposer des 2 CV aux US. Je connais un peu la Californie et je connais des gens qui ont des Citroën style SM et DS. Je pense que la 2 CV est assez étrange pour séduire nos amis américains.
En tous les cas je souhaite bon succés à l'organisation dont tu t'occupes. Si je peux te donner un coup de main d'une manière ou d'une autre (j'ai de la famille là bas), je le ferais volontiers.
Voici une photo de ma merveille (une sortie en famille cet été), avec son échappement d'origine dont je change tous les ans un morceau, car la voiture ne roule presque pas hélas, faute de temps.
C'est une 4x4 de 1980 achetée neuve, entretenue style maniaque et dans son état d'origine avec #40 000 km maintenant.
En plus de la voiture, les jeunes enfants sont mes filles, avec mon beau frère Ron (américain!) et sa femme Brady derrière.
C'est ma 3 eme Méhari (j'ai 50 ans!) et je reste sur l'idée de ne pouvoir rester sans Méhari dans mon garage. C'est un peu fou, mais bon... !
Amicalement,

Jean P.

---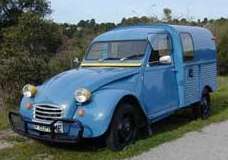 Hello,
You have a great web site for 2cv lovers like me. I want to come visit you and perhaps I can someday since I go to Paris several times each year and would love to own a 2cv6 for in France. Perhaps I can even order a car from you for delivery to California. Many people ask me where to get one so I will direct them to your web site.
I live in Carmel, California, am a restaurant owner and a Deuchist as you can see from the photo of my camionette that I drive everyday. It is at least a 1963 or perhaps a 1968 with the 602cc engine. There is rust in a lot of places...mais c'est la vie.
Je lis et je parle le francais aussi mais c'est un peu difficile d'écrire cette belle langue.
Avec mes amitiés culinaires,

---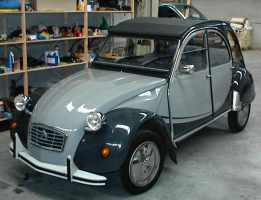 Hello!
I am the proud owner of a 1989 2CV Charleston. I bought my car sight unseen from a dealer in Belgium. Well, I did see a photo! I bought a 2CV because I have been to Europe several times and always found them attractive. I am 53 years old and I love the attention I receive as I drive around town.
Sincerely,

Michael, Houston, Texas.

---
I absolutely love the cv2 and I want one!
I roast coffee and sell wholesale so a truckette would be a great little delivery car.
My kids think the 2cv is ugly (which is of course why we love them!)
My ideal car would be a truckette painted my colors (as on the site) with logo on the doors. (a head turning delivery van for sure!)
I don't even know who the competition IS! but did enjoy your sense of humor regarding what they said about you :-)
and I have signed up for the mailing list.
great site btw.
a bientot

Bob
Cleveland, Ohio.

---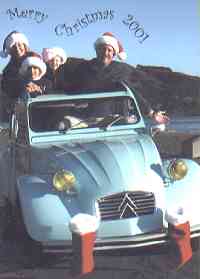 Bonjour Sylvain,
the package arrived yesterday, and I mounted the plate on the car today. It looks great!
Many thanks. I'll send you the photo when I've taken it.
The earthquake that we felt several days ago was the strongest one we had felt since the big earthquake in 1989. We have many small earthquakes every day however most of them are too faint to be felt -- only measured by instruments.
See http://earthquake.usgs.gov/recenteqs/
best regards,

Bruce
Tiburon / San-Francisco, California.

---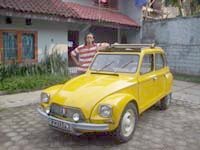 Hi
I am Galih Rakasiwi, from Bogor City, Indonesia..
I have 10 citroen, include 2CV, but for 2CV, it was wreck, I will restore it.... You can look my citroens in www.citroenlovers.com [st298490.sitekno.com], but is still Indonesian language


Galih
---
Many Thanks!
Your tip about idling problems in the 2cv being related to dirty springs was immensely helpful. I drove for 3 long days (Taos New Mexico to Louisville, Kentucky) having to pump the gas until it got up to speed the whole way. On arriving, it refused to go further until fixed. I worked on it for two days until I saw your site and it was fixed straight away. Again, many thinks for your gratious sharing of your time and knowledge.
Best wishes,
Jim
Louisville, Kentucky.

---