Jack & Nancy , Fresno, CA

We are very pleased with our purchase from 2cv_at_the_door!
From the very beginning of our "meeting" Sylvain, first on the telephone and then via e-mail, he was always very upfront about his expectations (both of himself and the buyer/client). Because Jack had restored several British MG roadsters he was confident that based on Sylvain's knowledge of the 2CV and detailed descriptions of how he would restore (refurbish) the car that we would commit to the purchase.
Part of the fun of purchasing the car from Sylvain was that he always kept us apprised of the progress and/or problems along the way! And, (I'm sure he has told you) he took photos which we now have in a nice album.
Because we did not know Sylvain we, too, were skeptical about sending a deposit and doing such a large purchase via internet. Have no fear! We did, however, "threaten" Sylvain with a Bounty Hunter! He has a good sense of humor and understood!
We joined the Sacramento Valley Citroen Club in Calif. It has international membership and that is how Sylvain "found" us. We had a "Wanted" ad in the newsletter. Anyway, some of the members have been of great help to us.
For instance, there is a great parts supplier located in Washington state. Because we aren't home I don't have the name,etc. available. Even though our car was complete there are always the little things that Jack likes to tinker with. And, of course, just knowing that the parts are available should one need them. (We already have an "ouch" in the roof).
As you may already know we have towed the 2CV behind our RV. No problem! The little car is always the center of attention everywhere we take her! She was a big hit on "the strip" in Las Vegas, NV. Especially at the new resort "Paris, Las Vegas"!
When we are home in Calif. the 2CV is the only car we drive now!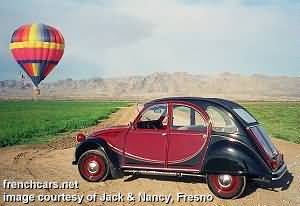 Oh, by the way, we are hot air balloonists and we even used her for a chase vehicle. Abusing her over the sagebrush and sand. She did better than many of the four-wheel drive vehicles!
Sorry to be so lengthy! I've probably told you more than you wanted to know! Hope this helps allay your concerns.

Jack & Nancy, Fresno, CA
---