Bruno , Newtonville, MA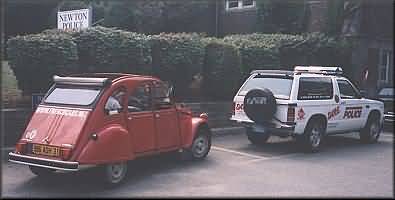 What I can say about Sylvain is that he is extremely professional. I contacted him in May last year. I wanted to find someone I could trust in order to ship my 1986 2CV to the States.
Also, at that time my 2CV needed a full tune up + a front wheels adjustment.
Sylvain took care of everything. He drove my car to the garage Gilles (near Toulouse France), and delivered my car here in Boston at the end of August 1999.
Again, I had no bad surprise. The car was running great and Sylvain was on schedule.
I didn't know Sylvain before doing this business and if I had to do it again I would certainly use his service.
I understand your concern about spare parts, mechanics and so on. I had the same thoughts before bringing my 2CV to the states. 2CVs are quite reliable, most of the mechanics can be done by yourself.
If I had to buy a 2CV today, I would buy one with low mileage (around 70,000 Kms - 45,000 Miles) and most certainly a 2CV6 vintage 1984/85/86.
So far, I've got no trouble at all and hope not to get any for a long time.

Bruno, Newtonville, MA
---