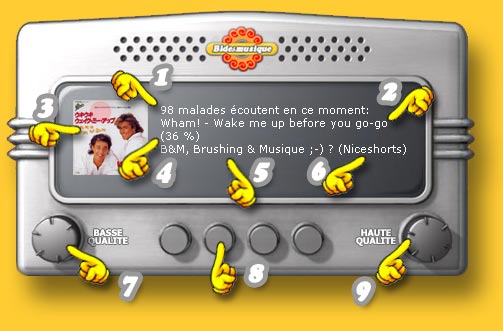 1. This the number of people now listening. If you click it, you'll have the list of identified listeners
2. This line tells you the artist and the song now playing. If you click the artist's name, you'll go to its card. If you click on the song's name, you'll go the information about it.
3. This is the disk sleeve. Click to enlarge.
4. The % is showing how much of the song has been played
5. This last line appears only from time to time. It is reading either the name of the special program, or (as shown here) a dedication done by request.
6. This is the name of the flopnaut who did the request, and the dedication. Click to go to its card.
7. 8. 9. These buttons launch the stream i.e. start to play the radio on your computer. You can those among two qualities depending on your internet access.
Bide&Musique stream offers three listening quality:
Low quality, FREE : 24 kbps 22 kHz mono

High quality, FREE : 56 kbps 22 kHz stereo

SHQ, subscription : 128 kbps 44 kHz stereo
24 kbps 22kHz mono
FREE
128 kbps 44 kHz stereo
(subscribers only)
56 kbps 22kHz stereo
FREE
The best solution is to use Winamp

but you can also use Real One Player

or Windows Media Player