Stephen, Las Vegas, NV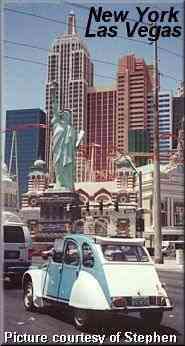 I want you to know how pleased my family and I are with our new 2CV, which we've nicknamed "Canette," which is Duckling in English. When I saw her waiting for me on the open flatbed truck, I was thrilled, and when she started right up, and I went to pick up my daughters from school, they were also delighted. My wife likes riding in her, but she still hasn't wanted to drive her, but I hope one day soon she will.
I'm glad I went with your suggestions about the white fenders and the white trunk, because she really looks classy, and we get lots of compliments when we're driving around town. One retired French gentleman who lives here in town was so struck with her great condition that he brought me photos to show me his '89, which he keeps in his sister's garage outside of Paris for six months of the year, and when he returns, he simply puts in a new battery, and drives off. Another retired French gentleman told me that he was a Citroen mechanic in his youth, and he offered to give me advice if I had problems. I'm sure I'll have to put my Haynes manual to work some day, and I'm glad to know someone is nearby who's got some experience working on 2CVs.
She passed through the Nevada DMV smog test and inspection with no problems, as you'd said she would, and since DMV had no original manufacturer's price for her, they charged me a sales tax based upon 80 % of the salesprice that we had agreed on, which came to less than $40.00!
We enjoy her very much, and our desert climate is just right for her. What would you think of our starting a dealership right here in Las Vegas?
Thanks for all the work that you put into her. A tres bientot!

Steve, Las Vegas, NV
---