Background




I don't remember when I first heard the song "Route 66" but it always held a promise of history, adventure and a feeling of wanderlust. I've always had a love affair with the automobile and finally these two things came together which culminated in my cross-country trip in my "new" Citroen 2cv.
The idea of driving from Chicago to LA on Route 66 had been a dream of mine for many years but with the purchase of my 2cv the dream would become a reality. I asked my friend, Rick, whom I've known for over thirty years, if he would like to accompany me. He too wanted to run Route 66 so his answer was a definite 'yes'.
Background
Before I start telling you of the journey, I would like to give you a little background information about me and how I selected my 2cv. I've had the usual collection of 'Detroit Iron' while in high school and junior college, Fords and Chevys of all shapes and conditions, some running and some not. I've also owned a couple of MG's, a Morgan, an Allard K3, a Ford Model A roadster and a 356C Porsche. As a family man I've had a few Japanese econo-boxes and a few utilitarian trucks in my driving career.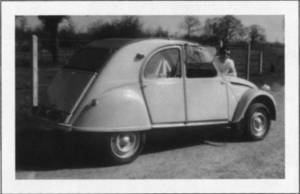 However, the car that has had the most lasting impression and the fondest memories has been my 1964 Citroen 2cv AZAM, which I purchased new in San Francisco as a young man in my mid-20s.

When I married in 1966, the "DEUCHE" was our family car for many years and was only sold when the family (wife and 2 kids) moved to a house on a very steep hill. It was soon evident that a car with 425 cc's. was not the best choice for four people on a steep hill. I reluctantly sold it, but never forgot it.
Over the last 20 years my wife and I have traveled to France on many occasions and always included lots of photos of 2cv's in our album. It must have been preordained that I would buy another 2cv. I have been collecting books, old advertisements, scale-models and magazine articles about the 2cv, and hadn't realized that I was on the verge of actively looking for one for sale. My family saw it coming and asked when I was going to quit procrastinating and buy one! What a smart family!
After a fruitless search for a car locally, I found Sylvain's website, www.frenchcars.fr.st, and I knew that the search had ended. We exchanged a number of e-mails about general information, such as what he looks for in a car which he would be proud to sell, what improvements he does and how the shipping and registration paperwork is handled. I noticed on his website that any bodywork that might be needed was done at the Garage Gilles in Cahors, in southwest France.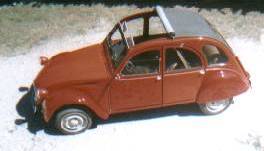 This was an uncanny coincidence because my wife and I would be in Cahors for a few days while on our French trip, which was about two months in the future. We arranged to meet and Sylvain took us on an all-day tour of the city and surrounding area in his 2cv. He also showed us how he selects a car, what improvements are made, and how the car complies with US customs regulations. He had a "creampuff" 2cv which I drove and bought on the spot. That done, we continued on our trip and eventually returned home and awaited the arrival date.
I could have had the car shipped to Los Angeles and then driven it to the San Francisco area, but that would have taken six more weeks compared to taking delivery in Newark, NJ. You see a plan forming, don't you? What a great opportunity to take the drive of my dreams in the car of my dreams. I could hardly wait.
I left from Oakland International Airport at 8 PM, and Rick left Sea-Tac Airport at about the same time and we met in Las Vegas for our red-eye flight to Newark, landing at 7:52 AM EST. After spending 5 hours next to a guy who ate three bean and garlic burritos for dinner, I was unrested but eager to leave the airplane as soon as it arrived. For some reason, the flight attendant wanted me to stay seated, even though the plane was still at 5,000 feet. It was with red eyes and great anticipation that we alighted on the New Jersey shore.
Rick and I arrived in Newark on September 19, 2000 and took the 'taxi ride from Hell' as our driver made a one-hour trip out of a five-minute drive from the airport to the shipping company. The experience was not wasted, because if I ever decide to drive a cab in Newark, I know every street in town.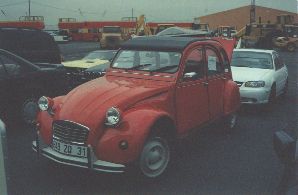 We spent about five minutes in the shipping company and approximately twenty minutes at the dock.

Imagine, if you can, my joy at seeing my 2cv for the first time, nestled among a group of Humbers, Jaguars, Land Rovers and the like, and my car standing out above the rest because of its beauty and its gleaming red-orange paint job. Sylvain's paperwork was very complete and we experienced no problems except finding Highway 80 west.

Next day