Rosemary, Beattyville, KY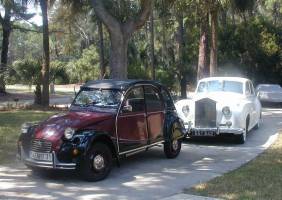 My 2CV arrived at our home on Tuesday night about midnight. We had one of our mechanics go to Norfolk, VA to clear the car that day. We all were out in the driveway late that night admiring the PERFECT 2CV. I love it so much!! It arrived in great shape and started immediately.
I did want you to know that the Customs Broker did a really poor job of trying to clear the car. The car actually arrived on July 24th but was only located by me after many phone calls on July 29th when the shipping company traced the car. The Customs Broker had the car under your name so could not find it when I would call again and again under our name. They didn't bother to call the numbers you had given them. Oh well, we got the car after many calls and the help of the shipping company. We LOVE the car and have driven it yesterday. It is running beautifully and is loved by all who see her. I am sending you photos of my precious 2CV with our 1959 Rolls Royce Silver Cloud I.
I hope you know how much we appreciate the professional work you have done of this car.


Rosemary, Beattyville, KY
---