Ladies and gentlemen, the story you're about to read is true.
(Mister dragnet)

Text & pictures by Bruno Pesce and Sylvain Roques
Across America in a 2CV
Episode I : Genesis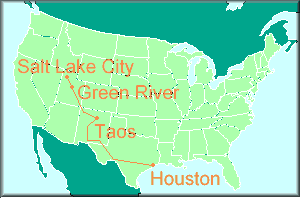 The trail
The Wild West... we wanted to visit it but never had the occasion to... until 1992 when we heard that the 1962 blue CitroŽn 2CV of Sylvain could be sold in the United States. With this information, the decision to go was made in a blink : operation "two wild horses" began.
Almost every part had previously gone out of order on the 2CV of Sylvain (excepted the engine and the gearbox...), and had already been repaired.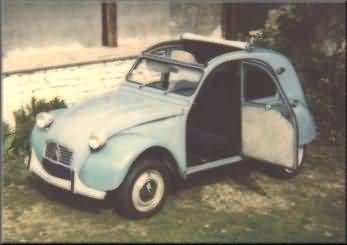 Original condition of the 2CV
As a consequence, only paint, material top and seats had to be refurbished.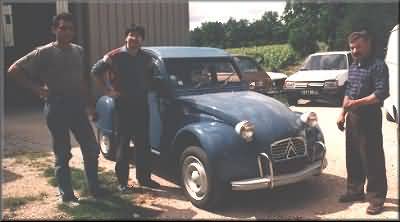 The 2CV after refurbishing
From left to right : painter, happy 2CV owner, garage owner
Bruno, on his side, organize transportation (boat for the 2CV, plane for the two 2CVers), passports, international driving licence, insurance, customs, maps etc...
As a result, one day on july 1992, we land at Houston International Airport on a friday afternoon. It is too late to claim the 2CV from the customs, so we have the full week-end to visit around.